Bikepacking – From Morlaix to Rennes
[FR 🇫🇷 ]
Nous nous sommes enfin lancés dans le bikepacking en Famille ! Après un faux-départ l'année dernière, nous nous sommes bien préparés pour concrétiser ce projet.
Pour cette première aventure, nous sommes partis à trois : Delphine, Thelma (2,5 ans) et Benoit.
Afin d'apporter plus de confort à notre voyage, j'ai prédéfinit les étapes en avance afin de tomber chaque soir un camping (douche + ravitaillement).
[ENG 🇬🇧 ]
We finally got into family bikepacking! After a false start last year, we are well prepared to make this project a reality.
For this first adventure, we left with three: Delphine, Thelma (2.5 years old) and Benoit.
In order to bring more comfort to our trip, I predefined the stages in advance in order to stop each evening on a campsite (shower + refueling).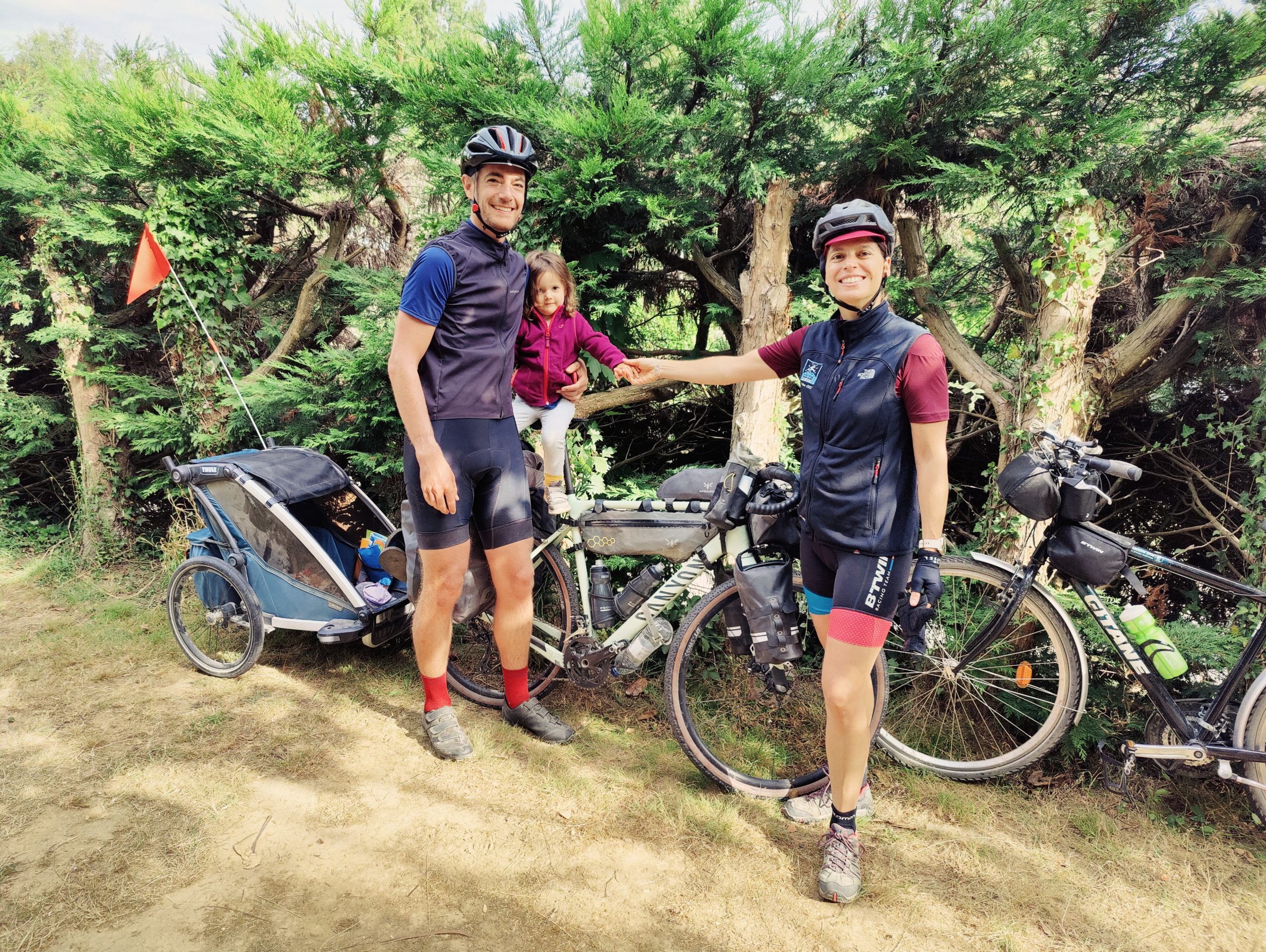 Nous avons choisi de continuer à découvrir notre belle region de Bretagne en empruntant le Canal de Nantes à Brest, puis le Canal de la Vilaine qui remonte jusqu'à Rennes.
Un parcours long de 350km que nous avons choisi de couvrir en 6 jours, en transportant tout le materiel de bivouac, de manière à être 100% autonomes. (checklist pour une semaine de bikepacking).
We have chosen to continue to discover our beautiful region of Brittany by taking the Canal de Nantes à Brest, then the Canal de la Vilaine which goes up to Rennes.
A 350km long route that we have chosen to cover in 6 days, carrying all the bivouac equipment, so as to be 100% autonomous. (checklist for a one-week bikepacking trip).
Nous avions quelques appréhensions concernant Thelma qui nous mène la vie dure lors des trajets en voiture ou en avion. Comment allait-elle réagir dans la remorque et en bivouac durant 6 jours ?
We had some apprehensions about Thelma who gives us a hard time when traveling by car or plane. How was she going to react in the trailer and in the bivouac for 6 days?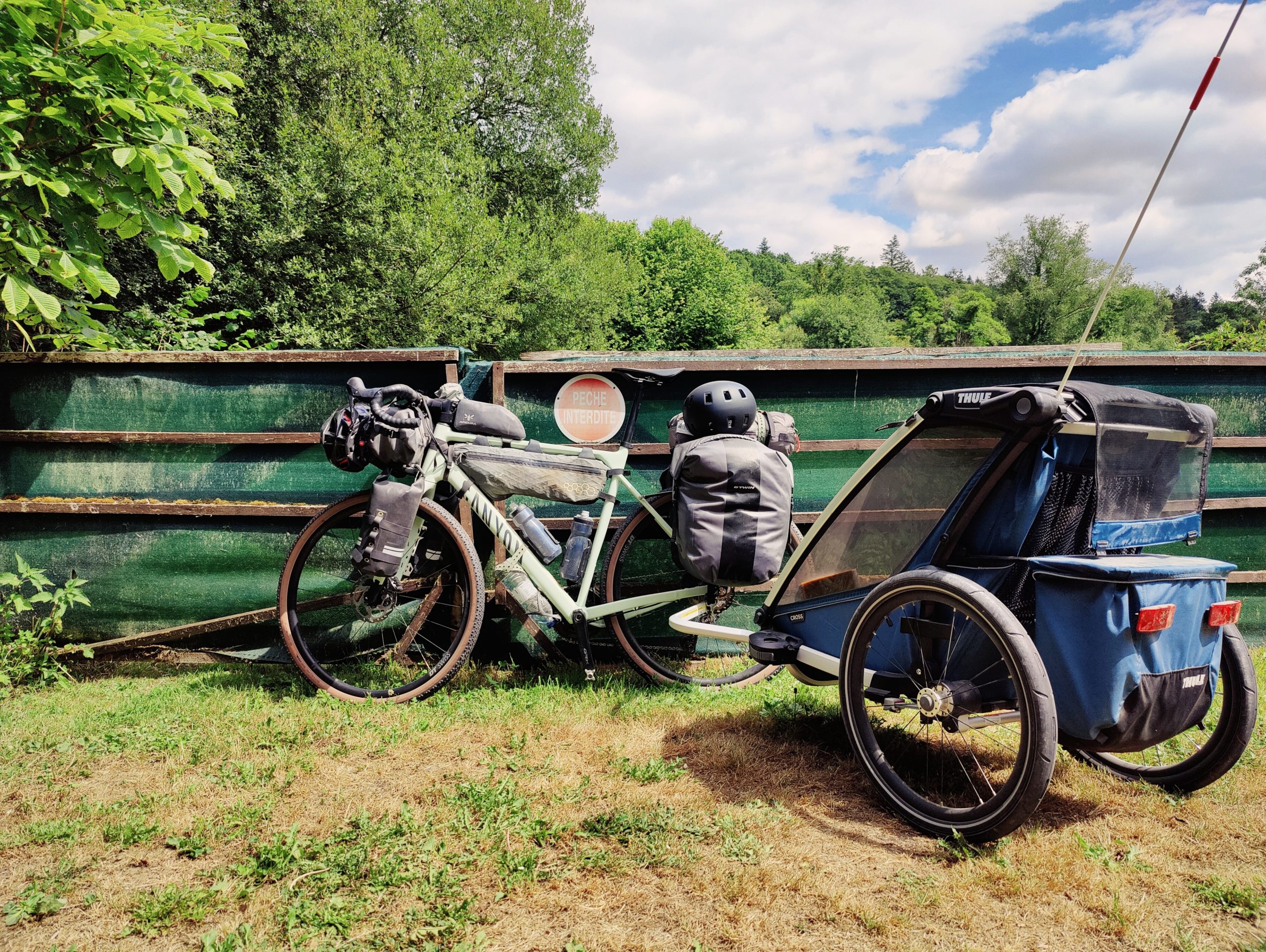 Partie 1 : De Morlaix à Carhaix.
Au départ de Morlaix, notre itinéraire emprunte la voie verte « La Vélodyssée » (Euro Velo 1) qui longe toute la côte Atlantique française.
Sur notre tronçons, il s'agit d'une ancienne voie ferrée, ce qui rend le parcours assez roulant, même si globalement on commence par un long faux-plat montant, pour finir par un long faux-plat descendant.
Paysages de campagne bretonne et grand soleil au menu (merci le réchauffement climatique…), c'est une belle mise en jambes pour ce qui restera jusqu'à la fin de nôtre périple : le calme et l'isolement.
Pour notre première nuit au camping nous avons le droit à un concert de sosies de Abba et Claude François. C'était très chaud à Carhaix !
Part 1: From Morlaix to Carhaix.
From Morlaix, our route takes the bike path "La Vélodyssée" (Euro Velo 1) which runs along the entire French Atlantic coast.
On this section, it is an old railway line, which makes the route quite rolling, even if overall we start with a long rising false flat, to end with a long descending false flat.
Landscapes of the Brittany's countryside, and bright sunshine on the menu (thanks to global warming…), it's a great warm-up for what will remain until the end of our journey: calm and isolation.
For our first night at the campsite we had a concert of look-alikes of Abba and Claude François. It was very hot in Carhaix!
Partie 2 : De Carhaix à Redon
Changement de décor, nous évoluons maintenant le long du Canal de Nantes à Brest. L'eau devient notre compagnon de voyage jusqu'à notre destination finale !
Pas de voiture, pas de routes, peu de villages… Nous nous sentons déconnectés du monde. Les quelques autres randonneurs à vélo que nous croisons nous rappellent que nous ne sommes pas seuls au monde.
Contrairement aux idées reçues, le terrain n'est pas plat. Le canal monte et descend en fonction de la topologie des lieux. Chaque écluse représente un dénivelé de +/- 2 mètres.
Nous rejoignons le canal au niveau de l'écluse num. 200, nous le quitterons au niveau de l'écluse 20.
Nous alternons les paysages : des vallées étroites, de larges plaines agricoles, des forêts, des champs… et peu de longues lignes droites (sauf à l'approche de Redon). Nous nous voyons progresser.
Cette deuxième partie dure 3 jours et nous mène à Redon où nous quittons le Canal de Nantes à Brest.
Part 2: From Carhaix to Redon
Change of scenery, we are now moving along the canal from Nantes to Brest. Water becomes our travel companion to our final destination!
No cars, no roads, few villages… We feel disconnected from the world. The few other bikepackers we meet remind us that we are not alone in the world.
Contrary to popular belief, the terrain is not flat. The canal goes up and down according to the topology of the places. Each lock represents a drop of +/- 2 meters.
We join the canal at lock 200, we will leave it at lock 20.
We alternate landscapes: narrow valleys, wide agricultural plains, forests, fields… and few long straight lines (except when approaching Redon). We see ourselves progressing.
This second part lasts 3 days and takes us to Redon where we leave the Nantes to Brest Canal.
Partie 3 : De Redon à Rennes.
Changement de direction et de décor. Nous suivons désormais le Canal de la Vilaine qui va nous conduire jusqu'à Rennes.
Le terrain est désormais en faux-plat montant.
Si le paysage est dans un premier temps similaire, rapidement nous observons des différences avec le précédent canal.
Plus intimiste, moins fréquenté, encore plus calme. Nous avons laissé les randonneurs à vélo au profit des pêcheurs. C'est d'ailleurs surprenant car l'activité fluviale nous semble plus importante.
Nous passons 2 jours le long de la Vilaine avant d'arriver à notre destination finale : Rennes. Le canal nous emmène dans le coeur de la ville, et ce n'est que pour les 2 derniers kilomètres que nous devons quitter la piste cyclable.
Revenir à la civilisation et au bruit après 6 jours d'isolement, c'est un choc, il nous faut quelques heures pour atterrir.
Part 3: From Redon to Rennes.
Change of direction and scenery. We are now following the Canal de la Vilaine which will take us to Rennes.
The terrain is now on an uphill false flat.
If the landscape is initially similar, we quickly observe differences from the previous canal.
More intimate, less crowded, and even quieter. We left the bikepackers in favor of the fishermen. This is also surprising because river activity seems to be more important.
We spend 2 days along the Vilaine before arriving at our final destination: Rennes. The canal takes us into the heart of the city, and it is only for the last 2 kilometers that we have to leave the cycle path.
Coming back to civilization and noise after 6 days of isolation is a shock, it takes us a few hours to land.
Retour d'expérience.
Superbe experience, tout s'est parfaitement passé : pas de blessure, pas de casse matérielle, une météo parfaite et des étapes bien calculées pourr avancer sans s'épuiser.
Thelma (2,5 ans) a parfaitement bien géré cette semaine. Elle a été globalement calme dans la remorque, elle a même réussi à dormir un peu tous les jours ! Et chaque jour dans un camping différent c'était comme un jeu pour elle.
Cet itinéraire est parfait, sécurisé, sans voiture et avec de nombreuses options d'hébergement tout le long du parcours. Les voies sont parfaitement entretenues.
Feedback.
Superb experience, everything went perfectly: no injury, no material breakage, perfect weather and well-calculated stages to move forward without getting exhausted.
Thelma (2.5 yo) handled this week perfectly well. She was generally calm in the trailer, she even managed to get some sleep every day! And every day at a different campsite was like a game for her.
This route is perfect, safe, car-free, and with many accommodation options along the way. The tracks are perfectly maintained.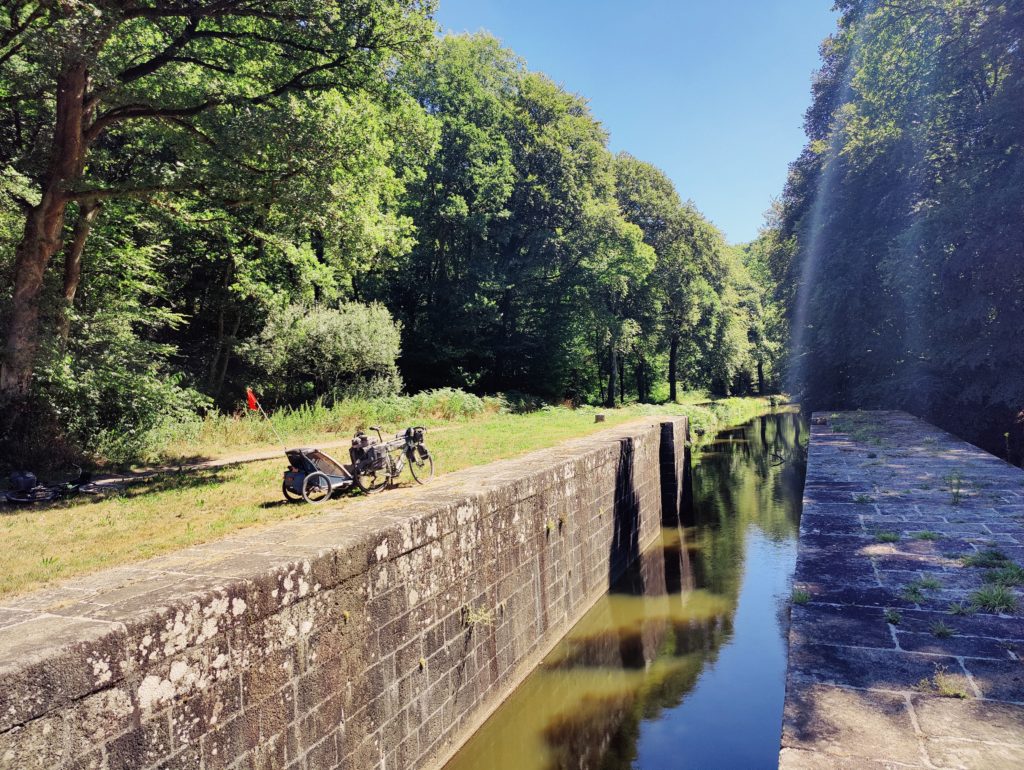 Camping municipal de la Vallée de l'Hyères.
Carhaix
Camping très sympa, calme (sauf soirs de concerts), bon accueil et quelques services sur place.
Very nice campsite, quiet (except evenings of concerts), welcoming and some services on site.
Camping Le Point De Vue
Guerledan
Au bord du Lac de Guerledan, services sur place, bon accueil.
On the shores of Lac de Guerledan, services on site, warm welcome.
Camping Domaine De Kerelly
Josselin
Camping décevant, proche de deux axes routiers bruyants.
Disappointing campsite, close to two noisy roads.
Camping municipal la Digue
Saint Martin sur Oust
Camping simple, aucun service sur place, mais bien situé le long du canal et calme.
Simple campsite, no services on site, but well located along the canal and quiet.
Camping Municipal « Les Salorges »
Guipry
Camping simple bien situé. Aucun service dans le camping.
Simple campsite well located. No service in the campsite.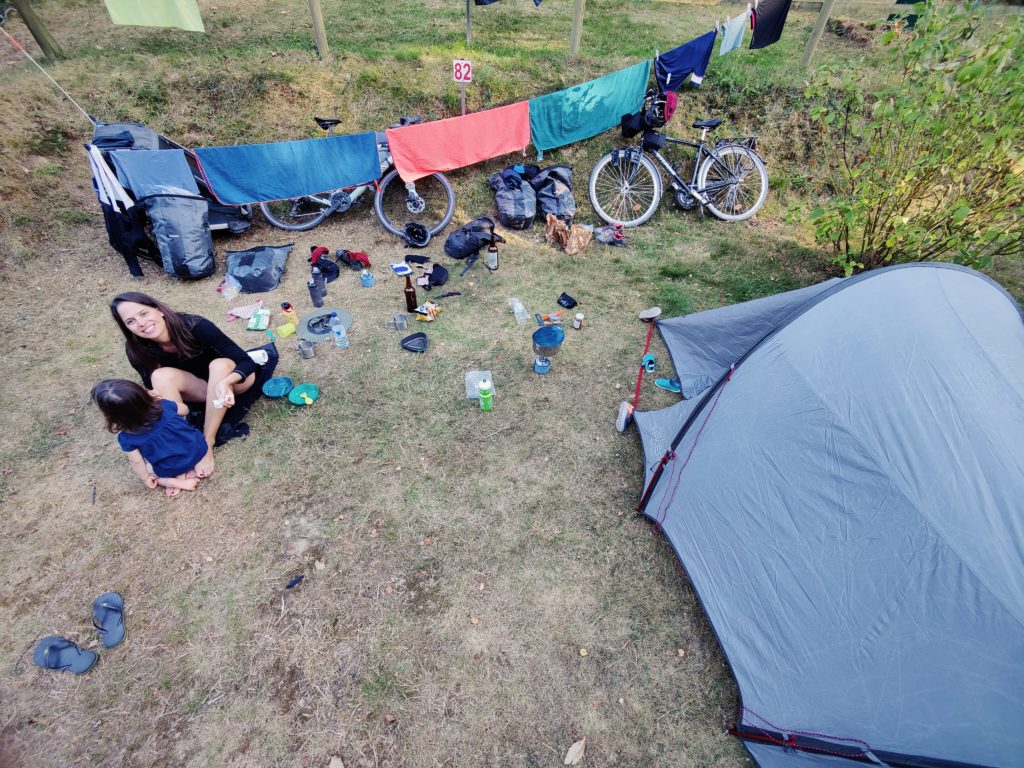 Useful links :